Frequently Asked Questions
What is the North American Discworld Convention?
Where is Wisconsin?
How do I get to the Concourse Convention Hotel in Madison, WI?
Who are you guys, and why is NADWCon2011 being held in Madison?
What are we getting for registration?
I've never been to a convention before. What should I expect, and how much will it cost me?
When should I plan to arrive at the Convention?
When should I plan to leave the Convention?
What is the Hospitality Suite?
Will there be a child care room?
After we register, will we receive a membership packet in the mail?
What if I have to cancel my registration? How do I do this?
What's all this nonsense about Terry Pratchett having an evil twin named Silas T.  Firefly?
How can I help with the convention?
When will we see more information about the convention on this website?
How can I learn about updates or get on a mailing list?


What is the North American Discworld Convention?

The North American Discworld Convention is a fan-run convention designed to celebrate Sir Terry Pratchett's long-running, bestselling, hilarious, insightful (etc., etc., we can keep going all day) series of satirical fantasy  novels. The UK has been holding Discworld Conventions regularly since 1996, and  more recently there have been Discworld Conventions in Australia and Germany. Until 2009, however, no one had successfully organized a Discworld-specific convention for the folks on this side of the  pond. That all changed when the first North American Discworld Convention was held in Tempe, Arizona from September 4th - 7th, 2009; and it was such a success that many fans have clamored for another one! That's why we will be holding the next NADWCon in Madison, Wisconsin, from July 8- 11, 2011! The convention is delighted to welcome back Guest of Honor Sir Terry Pratchett, as well as other guests with connections to Terry and/or the  Discworld. We chose 2011 to avoid conflict with the UK Discworld conventions that  take place during even-numbered years  which makes us officially odd!
Top
Where is Wisconsin?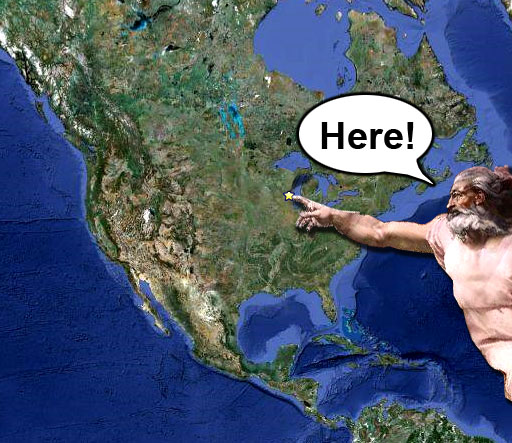 Alright, we concede that Madison, WI is not the largest or most well-known city  in the United States, but we were still rather surprised when this question started popping up from the overseas Pratchett fans. Nevertheless, we can't blame you for not being aware of our charming city and state, after all, we probably couldn't locate Birmingham, U.K. on a map without a bit  of help!
Wisconsin is located in the Northern Midwest United States, and Madison is about 150 mi (242 km) northwest of Chicago, IL. Wisconsin is far enough north to save it from the horrendously hot summers that some southern states can be subject to, but far enough south for its summers to still be warm. In July you should be prepared for temperatures in the 80s and 90s (roughly 30-35 Degrees Celsius).
Even if you don't think you have heard of Wisconsin, chances are you have. Wisconsin is the  home of Summerfest, the world's largest music festival; the USA's Octoberfest; and Noah's Ark, the nation's largest water  park. If nothing else you have probably heard of Wisconsin because of the numerous television shows that have been set here, including Happy Days, Laverne and  Shirley, Step by Step, Picket Fences, The Young and the Restless, and That 70s Show.
Top
 How do I get to the Concourse Convention Hotel in Madison, WI?

 Click on "directions" in the address window of the map below, and enter your address to find your travel route

View Larger Map
Top
Who are you guys, and why is NADWCon2011 being held in Madison?

Aside from the lovely weather mentioned above, our team in Madison, WI was also one of two groups to submit a bid to host the 2011 NADWCon. After the  incredible success of the 2009 NADWCon, which Sir Terry himself said was the  best Discworld Convention ever, there was little debate regarding whether or not to have another convention, but decisions needed to be made as to who would host it and where it would take place. The Guild of Chelonavigators, an oversight committee consisting of several folks intimately involved in planning the 2009 convention, was organized to decide these questions. The Guild solicited bids from interested cities, which were required to provide thorough information on both the proposed location and  proposed committee for the next convention. After a rigorous decision-making  process during which the Guild carefully considered all aspects of both bids, Madison, WI and our committee were chosen as the 2011 hosts.

Want to know more about our committee? Well, we have put together a committee page with in-depth information about each committee member.  But the short answer to who we are is that we are the team of people crazy enough to take on the task of putting on another spectacular Discworld Convention here in North America! After suggestions from Terry's editor Jennifer Brehl and others that a central location for the next NADWCon might be good, Jon Lemerond, Staff Artist for the 2009 convention, contacted 2011 Chair Joshua Goes and suggested that their hometown, Madison, host the con.  Josh was excited by this idea and quickly  put together a local team of motivated people, including several  experienced folks Josh and Jon have worked with in the past. Wisconsin and the local team are no strangers to conventions; in fact, Josh and his team  have over 100 years of combined experience in this field.  Just as  importantly, this local team also contains an impressive amount of Discworld fandom built into it as well, and is dedicated to making the 2011  convention amazing and fun for both new and old Discworld fans alike!
Top
What are we getting for registration?

The price of membership for the 2011 Discworld convention, which is comparable to that of the 2009 NADWCon, includes access to four days of convention fun, including convention-wide events, panels, workshops, games, and lectures. You will be attending this convention with the man himself, Sir Terry Pratchett, as well as with other special Discworld guests! You will receive a "goody bag" of con specific items, and access to free food and beverages in our hospitality suite. We will be more than happy to share more specifics about what games, guests, and goodies  we will be providing as these details are confirmed. Keep checking this website for that information as it becomes available.
Top
I've never been to a convention before. What should I expect, and how much will it cost me?

First of all, don't expect to be the only newbie! Many Discworld fans are not typical sci-fi/fantasy conventioneers. There will be a mix of complete newbies, experienced convention veterans, and probably even some fans who have been to the UK Discworld Conventions. Given  the wide appeal of Terry's books, the age range of attendees is bound to be enormous. Some fans will dress as Discworld characters; some will wear ordinary clothes. In this diverse crowd, you're sure to meet  lots of friendly fans, and maybe even make some lifelong friends.
As the convention approaches, we will be updating the website with more information concerning what we have planned. You'll be able to  consult a tentative program schedule listing which events will be happening, when and where they'll take place, and who the participants will be. Once you arrive at the convention, your first stop will be registration, where you'll pick up your badge, program book, and the final event  schedule (for a given value of final). If there are any last-minute changes to the printed schedule, they'll be posted in prominent locations at the con.
During a hypothetical day at the convention, you might start the morning sharing breakfast with some other fans. Then you may decide to attend a panel where authors and fans explore some aspect of Terry's writing. Then you move on to  play a Discworld game -- Thud!, perhaps. At this point, there are about three things going on at the same time that appeal to you, but you finally choose a Discworld art workshop.  Breaking for a free snack in the hospitality suite, you just happen to bump into Terry Pratchett talking with a group of fans; you eagerly join in. Then you race to attend a reading by one of our other author guests. Realizing you forgot to eat, you grab a quick meal and then attend a Discworld trivia panel, or maybe a session where fans sing their own Discworld parody songs, or possibly a panel discussing the latest Discworld film adaptations; but watch out for those Morris dancers! They've got sticks and buckets, and they aren't afraid to use them . . . .
Your hypothetical mileage may vary, but basically, expect fun! There will generally be several programs/panels to choose from at any given  time. Special events should include an interview with Sir Terry; a reading from the latest Pratchett book-in-progress; a charity auction of fun, rare, and/or valuable Discworld items; a stage Maskerade where you  can show off your own Discworld-themed costume or applaud the competitors; book signings; and more. In between, you can stroll through the Marketplace to view and purchase Discworld/fantasy items; attend a party or two in the evening; and hang out with guests and fans in  the bar. All these programs, panels, and events are included in the price of membership. However, we'll also be featuring a themed banquet for an additional fee, and possibly one other additional-fee event.
Beyond the price of registration, travel, and accommodations, the cost of the convention  will be largely up to you. Do you want to attend the banquet; buy some special collectibles in the charity auction and the Marketplace; eat at a nice restaurant; go shopping on Madison's famous State Street; rent a kayak or paddle board and enjoy one of the nearby lakes; buy drinks at the bar; purchase souvenirs for your entire extended family; or rent a car and go to the Wisconsin Dells? If so, you're going to want to budget some extra money. If, however, you just want to attend the convention without any "extras" then the cost of  registration, travel, and accommodations (plus a few basic meals; we don't want you fainting in the halls) will cover most of your  expenses.
In a way, the content of the convention is partially up to you. Don't be afraid to ask questions, participate, talk to people, and try something  new! Everyone's there because they love Discworld, too. If you have suggestions for program topics or special events, please let us know.  We're doing our level best to deliver a convention that exceeds your expectations!
Top
When should I plan to arrive at the Convention?

Early arrival is a good idea, but not necessary. The Convention will  officially begin with the opening ceremony on Friday, July 8th, around noon (exact times will be posted when guest schedules are confirmed), but we will be having an informal get-together Thursday evening for early arrivals and those volunteers helping with set up. Arriving on Thursday after 3:00 will ensure that you will be able to get into your room right away, join us for some fun that evening, and get a good night's sleep before the opening ceremonies the next day.
Arriving on Friday before noon so that you can attend the opening ceremony means that you may not be able to get into your room right away, but that is dependent on the occupancy levels of the previous night and typically Thursday nights are not high volume times for hotels. The Concourse Hotel will allow you into your room before 3:00 if the room is available. You have a fairly good chance of getting to your room right away in this situation, but it is certainly not guaranteed, and you may have to wait until as late as 3:00. Since your luggage is  most likely not made of sapient pearwood, it cannot defend itself, it won't be secure if it is not in your room. Please be aware of this fact. The hotel may be able to hold your luggage for you while you attend the opening ceremony, but if too many people try to take advantage of  this, they will have to start turning people away. In conclusion, Arriving on Thursday is preferred, but if you can't arrive on Thursday, Arriving early on Friday will probably be just fine.
Top
When should I plan to leave the Convention?

The NADWCon 2011 will run into the middle of Monday, July 11th. The closing ceremony will most likely take place around two or three o'clock that day. We are planning for some extra fun that day though (details will be posted as they are confirmed). One of our mottos  while working on this convention has been "Make Monday Special", so don't you dare plan on leaving early!
Top
What is the Hospitality Suite?

Two words: Free food!

Actually, it's even more than that. The hospitality suite is a North American convention tradition wherein one suite in the hotel is set aside for the comfort of all convention members, even those not staying at the hotel. Open from early in the morning until late at night, it's a  place to relax and chat with friends and/or help yourself to a variety of constantly replenished snack food, ranging from the reasonably healthy (fruit and vegetable trays, nuts, bottled water, etc.) to the extravagantly  unhealthy (soda, cheese, chips, cookies, muffins, candy, etc.). Our hospitality suite will, of course, be designed with a distinctly Discworld theme; you  may even spot a rat-on-a-stick or two.
Top
Will there be a child care room?

We are planning an event that is child friendly (and for any programs that are not child friendly, we will be sure to label them as such) and will have plenty for the youngsters to do, but I am afraid we just can't accept the liability of officially watching other people's children for them. We have kicked around the idea of hiring a third party professional child care service, and that may still be in an option  if a large enough number of young children are expected, but at this time we cannot say that there will be a child care area. Updates on such matters will be posted on the website, and announcements will be  made on Facebook, Livejournal, etc.
Top
After we register, will we receive a membership packet in the mail?

We will not be mailing out membership packets prior to the convention. Members will pick up their badges and registration materials at the convention. However, we will mail out occasional email updates and post news on our news page. You can also check the status and accuracy of your membership by looking at our Members List. Be sure to email us if you find that we have made an error with your membership.
Top
What if I have to cancel my registration? How do I do this?

Our policy is that memberships are non-refundable but can be transferred. To transfer your membership, first arrange for the transferee to pay you for your memberships, via Paypal, check, or whatever method you are both comfortable with. Once you have received a payment from the person you are transferring your membership to, please mail a signed and dated statement from you to our mailing address, indicating who the  memberships are being transferred to, and including their contact information. If the person buying the membership from you wants confirmation from the convention that these are valid memberships, please let us know and  we will be happy to confirm that for them.
Top
What's all this nonsense about Terry Pratchett having an evil twin named Silas T.  Firefly?

Contrary to the popular misconception, standing in line with a book and an eager expression is not the only -- or even the preferred -- means of meeting Terry.  Throughout the convention, you'll see him chatting with fans in the bar, the hospitality suite, the corridors, etc. However, while Terry is a famously fan-friendly author, sometimes even he needs a bit of a break. Rather than forcing him to hide in his rooms like a desperate fugitive, the UK Discworld Convention has devised  an ingenious system whereby Terry switches badges -- much like the "Do not disturb" sign on your hotel door -- to signal his availability for conversation. We'll be using this same badge system here at the NADWCon. If Terry's badge reads "Terry Pratchett," please feel free to say hello! Remember, he wouldn't be here if he  didn't want to meet his fans. If, however, his badge proclaims him to be "Silas T. Firefly" then please steer clear and let him enjoy some well-earned quiet time to himself.
Top
How can I help with the convention?

We really appreciate your interest! We need a lot of fan participation to help make this convention as successful as we know it can be. If  you'd like to volunteer, please email us at VOLUNTEER @ NADWCON.ORG  and let us know  about your interests, skills, and any convention experience, although  please don't hesitate to volunteer even if you've never attended a convention before. We're still very much in the early planning stages, but we've begun to compile a volunteer list with the help of our volunteer coordinator. As the  convention plans progress, we'll also put out a call for people with experience in specific areas.
Top
When will we see more information about the convention on this website?

All the latest news will be  available on the various pages here and on the LiveJournal news page. Please check back often for updates!
Top
How can I learn about updates or get on a mailing list?

We will be updating the website and the LiveJournal news page on a  regular basis, and also have a Twitterfeed, to which we occasionally post updates. We have also created a mailing list to issue updates. If you are registered for the convention, you will automatically be added to our email update list.
To subscribe to or unsubscribe from the e-newsletter, click the button below.




With our email lists, we will keep you notified whenever more details of the convention become available. We look forward to seeing you here in 2011!