NEWS AND FORUMS
Convention Merchandise
Pre-orders for merchandise have now ended.
These items will still be available for sale at the convention
Important! Please Read!
All pre-ordered convention merchandise is to be picked up by the customer upon their arrival at the NADWCon 2011,
and will not be mailed to the customer prior to that time. If you have ordered merchandise as an attending member and are now unable to attend the
convention we will mail it to you after the NADWCon 2011 has ended. Please note that we may have to include an additonal charge for
shipping in such cases.

Attention to all Supporting Members!
You are welcome to order NADWCon 2011 merchandise, and we will ship it to you after the convention!
You all really seem to love the merchandise we are offering. However many people have told us that they are not able to attend our convention,
but still want a Shirt, Car Plaque, or Plushie of their own. We are sorry that we can't sell you these items outright, we have an agreement
that they remain convention exclusive. What we can do though is send them to our Supporting Members, if they agree to pay for the shipping costs.
We are sorry that we can't sell our merchandise to just anyone who wants it, but we hope this will help some of you get the items you desire.
The option for Supporting Members buying merchandise and having it shipped has been added to each ordering section drop-down menu.
Support the NADWCon and you can get some cool, convention exclusive merchandise even if you can't attend!




The NADWCon 2011 Ankh Morpork Pendant was designed by The Morpheus Company
Check out their website to see what other amazing work they have done!
Cast in solid bronze, this pendant features our clever little Ankh Morpork convention logo. It is around one inch in diameter, and
is available as either a pin or pendant.


Your eyes do not deceive you. These are official Discworld stuffed toys! They are cute, they are cuddly, and they are only available at the 2011 Discworld Conventions! These are limited edition collectibles and will not be sold outside of the 2011 Discworld Conventions. Sales of these toys are an international endeavor approved by Sir Terry Pratchett. If you are attending the North American Discworld Convention 2011 you can pre-order these items now, and pick them up when you arrive at the NADWCon. If you are not attending the NADWCon 2011 you can still get your hands on these by ordering from, and attending one of the other 2011 Discworld Conventions.
Participation and available number of these collectables may vary between conventions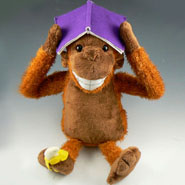 This is an image of the Librarian Plushy Prototype. The final toy will have "Ook!" written on the cover of his book.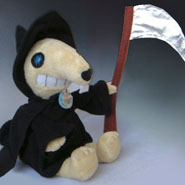 The Librarian comes complete with book and banana.
Seated he is about 8 inches tall with a 7 inch arm span.
The Death of Rats comes with scythe, cloak and "omega" clasp.
He is about 8 inches tall sitting down.